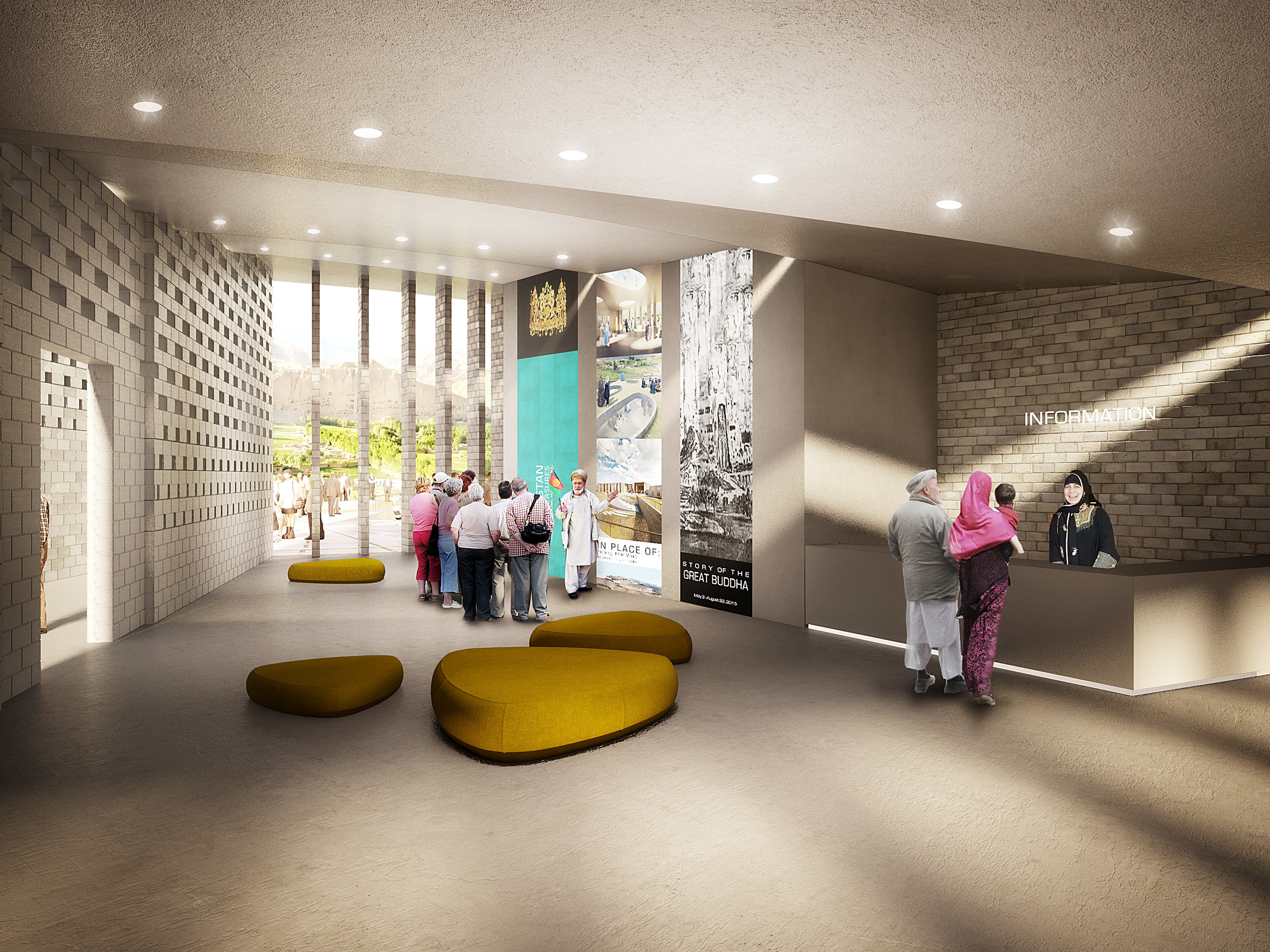 IN PLACE OF THE VOID
2015
Studio Excultura (with Sasha Topolnytska, Matt DeLuca)
UNESCO Bamiyan Cultural Center Design Competition
Bamiyan, Afghanistan
Bamiyan is the geographical and cultural heart of Afghanistan. The country's ancient history of international exchange and spiritual pilgrimage has for thousands of years centered around the Bamiyan valley. Located along ancient trade routes, Bamiyan has historically been a site of introduction to Afghan culture for international travellers.

Today, at the heart of Bamiyan there is a void, where several years of destructive forces have taken their toll on the landscape and livelihood of the place. Physical voids in the cliffs, where the extraordinary Buddhas once stood, are powerful signifiers of loss, but also symbols of hopeful expectation for future revival.

Opposite the Buddha cliffs, the Bamiyan Cultural Center will inhabit the small cliff on the site – carving in and lifting from the natural topography. At the heart of the building design is an open courtyard for gathering - where local residents, visitors, students and staff will take part in cultural activities and events. The building program radiates around the courtyard, extending outward towards the surrounding landscape and town. Every programmatic space has a direct relationship with the courtyard. Views are opened up between the programs, allowing the rich scenery of Bamiyan to flood into the courtyard at the heart of the cultural center.
Formally the building design follows the topography of the site landscape. The performance hall seating steps up across the courtyard from an open air amphitheater which stepsdown towards the view of the cliffs. An adjacent exhibition space is carved into the landscape, sitting below the welcome center and teahouse in the northeast sector of the building. The educational facilities array to the southwest, beyond which the center's future expansion will be built. Excavated earth from the building's initial construction will become the material for brick making on site.

The building will be constructed of local, natural materials and traditional building techniques, as well as new technologies that will utilize the natural resources (sun, wind, rain, snow). In the southern, most sun-rich region of the site, solar and brick gardens will harvest sun energy and future building material. For the local residents of Bamiyan, the center will give an opportunity for new professions and practices of making. Built of sun-baked brick, the outer walls and future construction of the center will be an ongoing communal work.

As a place of making and disseminating local craft, the center is envisioned as a cultural venue for artistry, education and heritage. The flexible courtyard space at its core will allow for a constantly changing program of events. In place of the void will be a rich social and cultural hub at the heart of Bamiyan.